We supply a range of commercial irrigation products to our customers. Leading brands of pumps, valves, gear driven rotors, sprinkler heads and advanced control systems. Our website showcases some of the most common components and upgrades that TS Pumps & Irrigation stock. Contact us today to discuss your irrigation requirements or to place an order.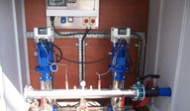 Pump Specialists
We specify and install a range of variable-speed pressure booster pump units to suit all applications from Golfing to Sports Field and Equestrian to Residential use. We build secure pump houses on site and carry out all ancillary works to deliver the highest standards to our customers.
Reliable Service
We are passionate about providing an excellent service to our customers. Whether your enquiry is about finding an urgent part, or taking the initial steps to engaging us to provide a full irrigation system, we like to provide a professional and reliable service. Our customers, new and old, are our priority.
Always In Stock
TS Pumps & Irrigation carry a large stock all of the leading brands of irrigation components and parts. And if we don't have the particular part at our facility, we can source the required component very quickly via our sales contacts. Our aim is to become Irelands number 1 trusted irrigation agent.