We supply a range of commercial irrigation products to our customers. Leading brands of pumps, valves, gear driven rotors, sprinkler heads and advanced control systems. Browse or search our product catalogue above.
Design
TSPI have worked with clients in the Golf, Sporting and Equestrian fields to design and install bespoke irrigation solutions all over Ireland. Our systems use only the highest quality components to deliver a reliable and efficient irrigation system.
Sales
TSPI are only a phone call away when it comes to the best advice and the fastest sourcing of new and replacement components for your irrigation system. From garden hose and PVC pipe to valves and sprinkler heads, electronic controllers and water storage solutions, TSPI will have the answer.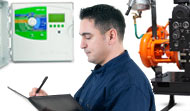 Service
We maintain and service irrigation systems for dozens of the countries leading sports and equestrian venues. Our service engineers are on the road everyday to replace, upgrade or maintain pumps and irrigation systems nationwide. Call us for a fast response today.
TS Pumps & Irrigation have a catalogue of over 400 products available to order by telephone. Browse our product catalogue above to see the range of products available. Call Tim on 086 811 8069 for all price enquiries.