As part of our full irrigation business, we supply and install irrigation systems to indoor and outdoor riding arenas. We can specify fully automatic watering kits for the most popular sizes of riding arenas, or provide traveling sprinklers for connection to your mains water supply. Our complete solutions include pumps, hoses and moveable sprinklers and we tailor a system to suit your exact arena size. We also design custom systems for gallops and racecourse applications.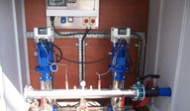 Components
An arena watering system will require a pump, pipework and fittings, manifold with solenoid valves, pop-up sprinkler units and electronic time control unit. We design, install and test the system to meet our customer expectations and achieve the highest quality results.
Benefits
All horse arenas or menages require a watering system to dampen down dust and keep the ground in an optimum condition for horseriding. A fully automatic system removes the requirement for staff to spend time walking an arena with basic watering equipment.
Safety
All pipework is routed underground and pop-up sprinklers are placed behind the kick boards or fencing, and will pop-up above the boards when operating and retract back down when watering is finished.