Playing pitches for all kinds of sports benefit from professionally designed and installed irrigation systems. We consult with clients to deliver the correct system for them – whether it's an automatic pop up system or large or medium travelling sprinkler units.
A Typical System
A typical watering package will consist of a pump and controls, pipework and fittings, manifold with solenoid valves, pop-up sprinkler units and water storage tanks. The pop-up units can be in-field or along the sidelines and are designed to high safety standards.
Benefits
Professional standard playing pitches require a watering system to keep the ground in an optimum condition for play, and to allow optimum grass recovery during dry weather conditions. Digital control units make administering the system very easy.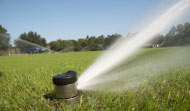 Design
We meet with the client to define the requirements and then evaluate the site.  We work closely with Rain Bird, Toro and Hunter design consultants to come up with a cost effective and efficient solution based on our evaluation and the specific client requirements.