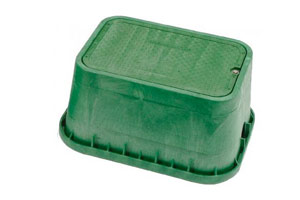 Carson Brooks VB1220
Rectangular and round valve boxes made of heavy duty polyethylene permit easy access to underground water meters, air relief valves, drain valves, electric and manual valves, TBOS control modules, decoders and other irrigation equipment. These valve boxes are fast and easy to install saving in installation costs.
Constructed of high density polyethylene structural foam.
Factory pierced slots for pipe.  Additional slots can be opened with an ordinary hacksaw.